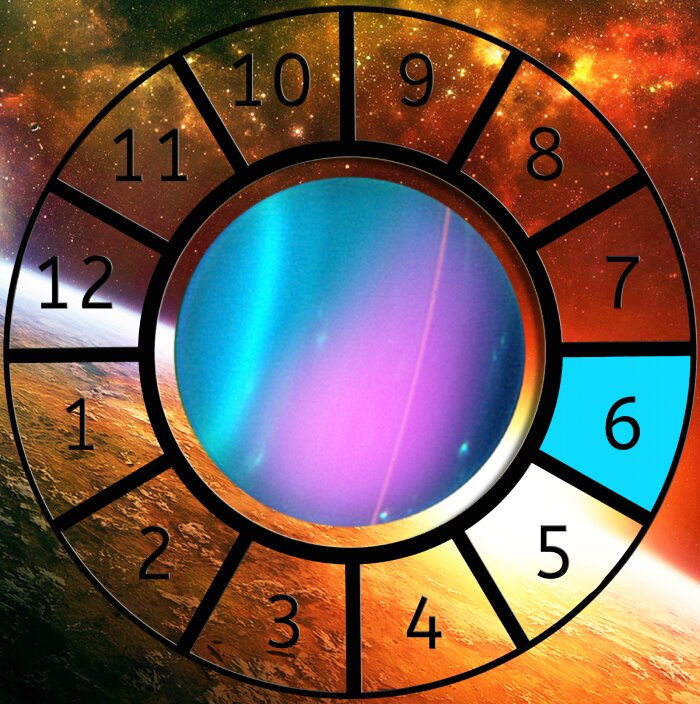 Uranus in the 6th House
The Sixth House represents efforts toward employment, health, and daily activities. Where the body you're born with exists in the First House, the choices made over a lifetime create the body found in your Sixth House. The Sixth House is also associated with routines such as exercise, volunteering, and odd jobs. The Sixth House teaches us to integrate and balance mental, physical, and spiritual energy.
Uranus represents progressive thinking, inventions, shocking events that come out of the blue (like lightning), and anything strange or out of place.
With Uranus in the 6th House, you have unique abilities and original methods, especially in your work. You may suffer from extreme nervous tension and strange accidents on the job. Your appearance and manner of dress are apt to be quite unusual. You like the kind of work that has irregular hours, is different, and has a lot of variety.
You are a good worker, but must watch out so that you do not overwork. You can develop clever ideas which will aid you in your work. You are at your best when you can be independent and be your own boss. You may be impatient with others and can appear to be abrupt to and detached from your fellow workers.
Strange and unexpected turns in your health can occur. Spasmodic health is also a possibility. Many times the cause is simply nervousness, anxiety, stress, and tension. Relax.

Sign up today!
See how we apply Cosmodynes to your
Free Personal and Synastry Reports.

Ben Baker, CEO
About the Author
Ben has practiced Astrology for over 35 years and is a certified Cognitive Behavioral Therapist (CBT) Practitioner. Ben holds 11 patents for the core functions that all dating sites now use today. See Ben's Bio for more info.