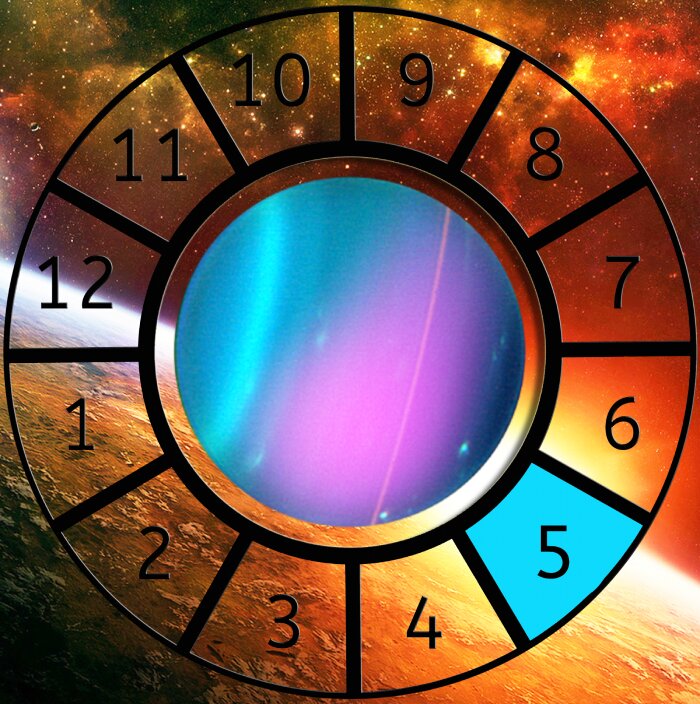 Uranus in the 5th House
The Fifth House is the House of fun, sex, and creativity. It maps an attraction to places where creativity is expressed - places of pleasure, entertainment, and amusement, such as the presentation of the fine arts, films, or drama, sports and concerts, recreational areas, hobbies, and leisure. It is associated with children (and the making of children) and maps youth and the school or the ideal place where we return to create without judgment. It rules casual dating, extramarital affairs, gambling or speculation, and the stock market.
Uranus represents progressive thinking, inventions, shocking events that come out of the blue (like lightning), and anything strange or out of place.
With Uranus in the 5th House, you definitely possess creative originality. Your hobbies are unusual and interesting. Your desire for independence may make love affairs and relationships with children unsettling. Your children may be very unique, so much so that neither you nor they can understand the other. You are disinterested in society's social games and are more concerned about your own inclinations.
Speculation can get you into trouble — be careful. Sudden gains and sudden losses are possible. Unexpected gains without any effort on your part can come to you, which may generate an attitude within that you just can't lose. Watch out for that.
Your love life is unusual, sometimes maybe even wild. Your approach to romance and dating may be somewhat cavalier, unconventional and/or rebellious.

Sign up today!
See how we apply Cosmodynes to your
Free Personal and Synastry Reports.

Ben Baker, CEO
About the Author
Ben has practiced Astrology for over 35 years and is a certified Cognitive Behavioral Therapist (CBT) Practitioner. Ben holds 11 patents for the core functions that all dating sites now use today. See Ben's Bio for more info.