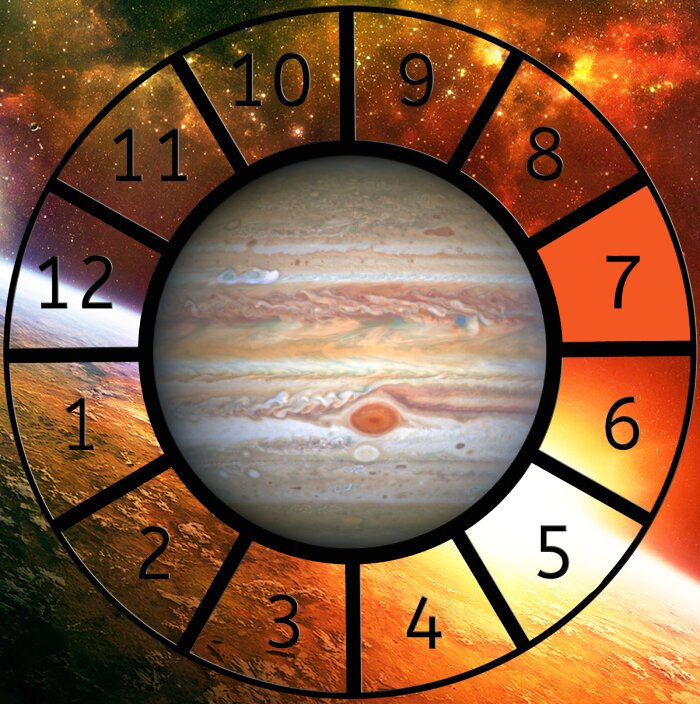 Jupiter in the 7th House
The Seventh House is the house of partnership. Referred to as the marriage box by some astrologers, this house concerns itself with one-on-one dynamics; romantic, business, and even adversarial couplings fall within its proverbial walls. Those with natal planets in the Seventh House tend to be very focused on relationships, gravitating towards partnership in all areas of life.
With Jupiter in the Seven House, benefits, opportunities, and wealth may come about due to marriage or partnerships in general. You seek a partner that can expand your visions, open up opportunities for expansion and help you grow. Your partner can strengthen your faith and deepen your religious or philosophical attitudes and ideas. You may feel that you need a partner to help you develop your moral outlook and social conscience.
Your partner, who may be a member of one of the medical or legal professions, may be more affluent than you. If Jupiter is badly aspected (discordant) in your natal chart, then your partner may be somewhat opinionated, lazy, self-indulgent, extravagant and self-willed, sometimes untrustworthy, immoral, shameless, and wasteful.
You are able to bring out the generous and good-natured impulses of others, but in order to get the best results from the marriage partnership, you may need to control any extravagant tendencies and prevent false pride from unduly affecting the smooth course of your relationships.
Sign up today
and see how we apply Cosmodyness to your
Free Personal and Synastry Reports.

Ben Baker, CEO
About the Author
Ben has practiced Astrology for over 35 years and is a certified Cognitive Behavioral Therapist (CBT) Practitioner. Ben holds 11 patents for the core functions that all dating sites now use today. See Ben's Bio for more info.