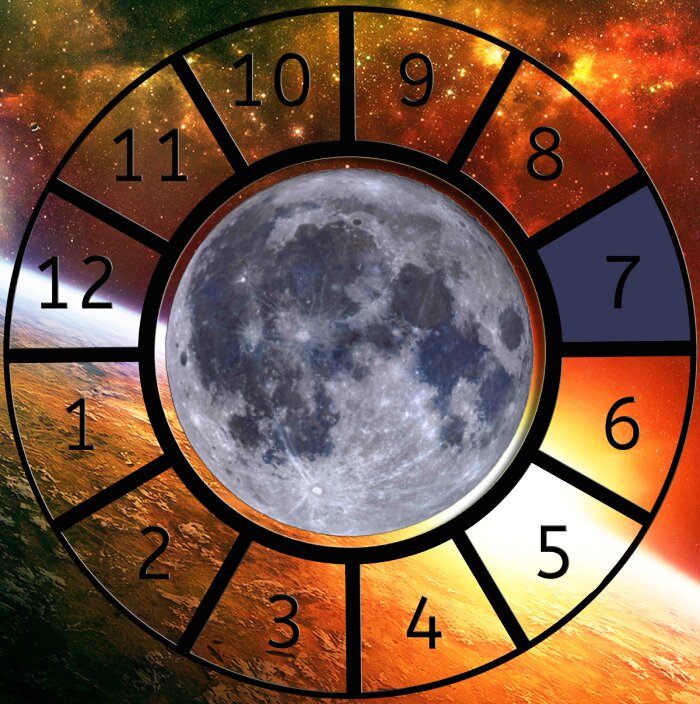 Moon in the 7th House

Key Phrases:
Partnership-oriented, Nurturing in relationships, Seeking emotional balance in relationships, Diplomatic, Empathetic, Harmonious, Desire for emotional connection and intimacy
The Seventh House is the house of partnership. Referred to as the marriage box by some astrologers, this house concerns itself with one-on-one dynamics; romantic, business, and even adversarial couplings fall within its proverbial walls. Those with natal planets in the Seventh House tend to be very focused on relationships, gravitating towards partnership in all areas of life.
You seem to attract sensitive people as partners, perhaps those who want to "mother" you or be mothered. There can be many changes in partners and many relationships because of the need to find someone who can bring ultimate security. This search continues because security can only be found within, not without. You desire companionship, hence many relationships.
Your feelings are greatly influenced by those with whom you are in close personal contact. You want to be popular with others. You are inclined to seek partners who can bring out your sympathetic side and play on your emotions.
For men, there is often a tendency to seek a "mother figure" and to bring out in others a desire to mother, protect and care for them. You are, therefore, likely to attract a partner who is kind and domesticated.
Both you and your partner may need to be on your guard against moody or fickle behavior. Marriage may be undertaken with the goal of establishing a home. More than one marriage is possible.
There is probably a compelling emotional need for a partner and for marriage. In order to get the best results from any partnership, you must learn to control any tendency to be continually at the mercy of your moods, which may result from over-vulnerable feelings. Try to control a tendency to be too dependent on others for your emotional stimuli, and you should discipline a constant desire for changes in the nature of the relationship.
Concerning vocation: Your work situation is tied to the public and partnerships, with a keen awareness of public expectations and the need to meet them. Perhaps marriage is essential to give a clear focus on work security. For many with this position, the work profile can be labeled a "public personality." You are dependent upon others for the fulfillment of work needs. The process of relationships is fundamentally important.

Ben Baker, CEO
About the Author
Ben has practiced Astrology for over 35 years and is a certified Cognitive Behavioral Therapist (CBT) Practitioner. Ben holds 11 patents for the core functions that all dating sites now use today. See Ben's Bio for more info.